Running without brakes: the market billionaire runs the world
Why run? What chase? Of fleeing?
Fever 'running' is a global phenomenon, agitated by the fashion industry and sport
"There is something mystical" to feel your pulse, the sweat, the harmony between body and mind "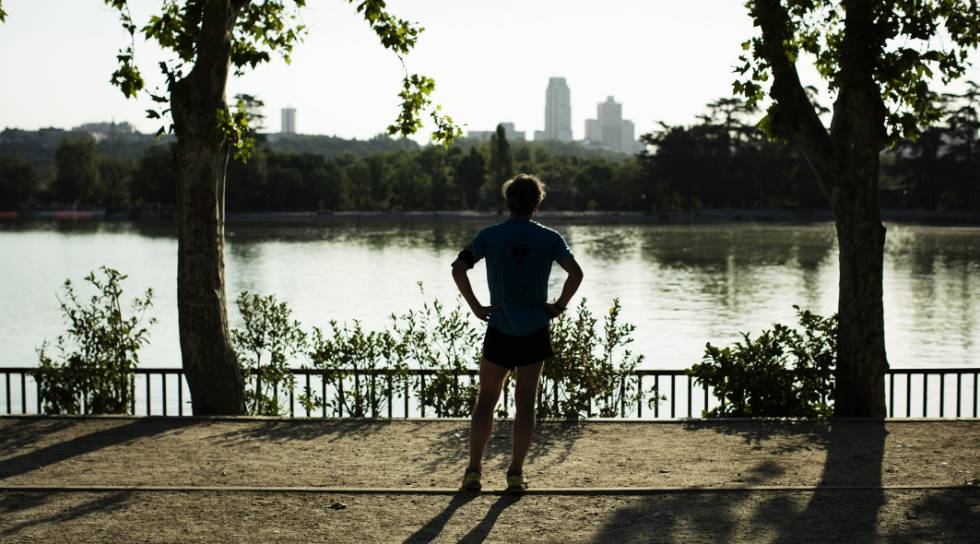 One morning in July, the Secretary of State for Culture, Jose Maria Lassalle, 49, arrives at his office in Madrid, after running 13 kilometers. There is a glow of happiness on his face. "Entering the Villa, even at night, and meet with the dawn is an aesthetic and intimate experience. The sun, so low was the carpet of my steps, and in the silence, I could hear me, hear my heartbeat, I noticed the progression of sweat, I felt that my body and mind were in full harmony. There is something mystical in these emotions. I just run with the feeling that was already the day done. "
The journalist Cristina Mitre, movement founder of Women Who Run, began to lose weight, but found this activity a profitable passion full of meaning. "Running makes me powerful. It's like the wasabi on the sushi, if you test, you can no longer do without it. " He says the race relieves many symptoms of menopause and menstruation and frees unknown female inner forces. "Every race is a celebration of vitality, a celebration of life," says this enthusiastic woman who overcame ovarian cancer and now feels "much better equipped" to deal with any illness. Happiness, freedom and fullness of life are the main standards of this phenomenon that generates affinities and meets the same effort bankers and unemployed, young and old, elite athletes and beginners.
"I run to feel free, healthy and at peace with myself. It is a positive obsession that helps me
improve, "said the Rocky Mountains of Colorado (USA) businessman and economist Javier Arroyo, 44, father of two children.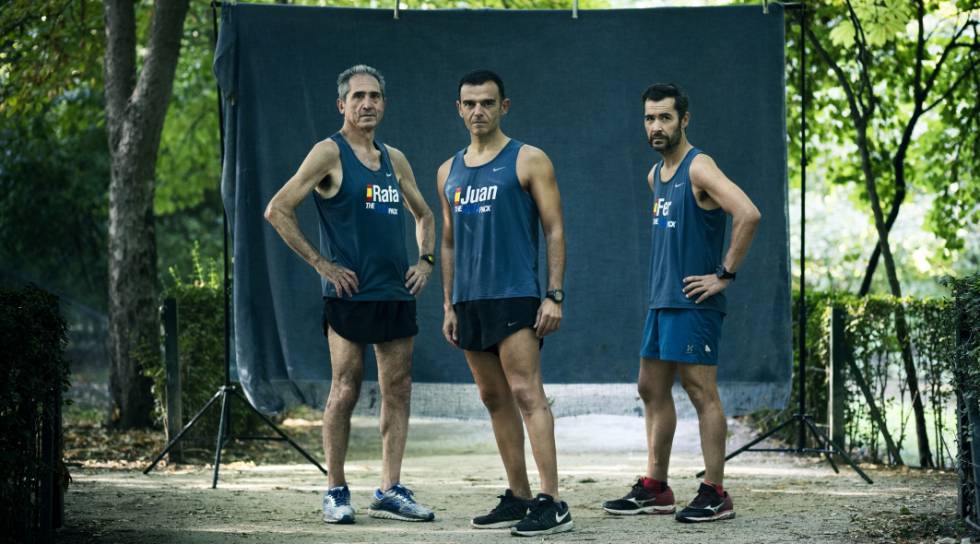 In addition to solving the problem of overweight – from 110 kilograms to 79 – Juan Rubio, 45, with two children, director of an advertising agency, found the race a way to build a life that declares marked by happiness . "Being marathon is part of my way of being, because I like to build little by little, as you work during the four months of training for a marathon." For Francesc Torralba, the keyword is liberation. "Running is refreshing, frees you from stress and toxic emotions and reconciles you with nature. It is a way to escape and seek shelter, and is also a personal laboratory in flowing ideas and thoughts. Find a spiritual bond in that it allows for meditation and prayer, "the Catalan philosopher 49 years, father of five children.
Why Kilian Jornet run? "There are always hidden reasons that lead us to do what we do. It is a search that spent a lifetime trying to figure out, "reflects this ultramarathonist and Sabadell Mountain skier who inspires the most serious runners. Jornet, 28, a remarkable athlete who wins all and exceeds the most demanding challenges, it also has a short answer: "I run, climb and Ski to feel happy." States that ignores its deep reasons, but that may have to do with "our animal nature, the search for yourself by exploring the limits, the wonder of the landscape and also the limbo located between the illusion that brings me death and reflection that keeps me in life. "
There is no formula. To compete in the marathon, this "urban Everest", every runner must design their mental survival strategy and to cling to the idea that the limits are not irremovable. In Born to Run, the famous work of Christopher McDougall, says that a 95-year-old made 40 km mountain because "no one had ever said that he could not do it"; no one had told him that his business was languishing dying in a nursing home. Haruki Murakami collected in his book What I Talk When I Racing Talk (Alfaguara Brazil) the mantra that a marathoner recited from kilometer 1: "Pain is inevitable, but suffering is optional, depends on each one." In the same work, the Japanese writer speaks of metaphysical experience that experienced during a long run. "I had to resort to all my repertoire of resources: I am not human, I am a machine and do not have to feel anything. I repeated this phrase to the magical moment (…). Upon arriving at kilometer 75, I felt like my body had gone through a stone wall and passed to the other side. " From there, the fatigue is no longer a problem. During the remainder of the race, "he ran like the wind" and exceeded 200 runners. "If there's an opponent that you should succeed in your long-distance running, it's you."
"The body grows substances that provide a vital voice high and affect positively the so-called hormone of happiness.
When running, we benefit from this state of well-being, "said Francesc Torralba, philosopher, author of Running to think and feel (lectio).
Reach the goal, meet in order to survive the difficult challenges, all this places the runner in a kind of emotional nirvana, a state of euphoria that activates a self-confidence circuit, spare energy and anxiety to return for more than finish tired, swearing and lying that they could not submit to this kind of suffering.
Since the first light of dawn and even before – with front lights to illuminate the dark if necessary – millions of inhabitants of the global village run by streets and parks, roads and
trails, driven by a psychic motivation, surely primitive. It is as if a part of humanity had been constituted as a universal brotherhood of sweat and experienced a new addictive way to participate in life, as if the cities of the world have joined in an endless relay race, like the patter of footsteps, tap-tap-tap-tap, marked the sign of the times. How to explain this general mobilization? On behalf of the Homo corridor of our ancestors back massively in the XXI century? It is a ground wire that people seek to escape from the hustle and maddening noise? Is a turning point, a rethinking of values? It has to do with urban overpopulation, with the way of life, with the economic crisis? The truth is that the great expansion of the street race would not have been possible without the massive incorporation of women.
Why run? What chase? Of fleeing? Fever running before jogging running now, is consolidated as a universal phenomenon that in the US already infected more than 50 million people and generates $ 3 billion (equivalent to R $ 9.7 billion) annually. There seems to be a fad. This collective passion is deep and broad, in two directions, exterior and interior. Behind every back there intimate motivations and personal histories, often buried and mimicked in the solitude of the hall.
"I started after the sudden death of my best friend, marathoner, who died at age 35, victim of acute leukemia," says Juan Soroeta, San Sebastián, 56, professor of international law. "After several months of depression, in tribute to him, I decided to start running for the first time in his life and set as your goal 2h59min mark in the marathon. It took me 10 years, but since I reached, I never stopped. Already disputed 30 marathons. "
"Reset" the mind in this way is a common expression that invokes both the power of relaxation and the opportunity to rearm emotionally in a fruitful process of inner reflection. Who says this is the psychiatrist Luis Rojas Marcos who, at 72, does not miss a New York City Marathon. "While I run, often comes to mind troubleshooters who considered insoluble. I have the opportunity to talk to myself, listening to music or share time with mates and loved ones. " Every runner has an advertising within themselves, with the dual message that this activity can change your life or improve it, and placed in the balance, the benefits far outweigh the sacrifices and injuries.
"I run because it's fun, nice, clarifies the mind, makes you travel, make friends, keep in shape and know yourself. Even the effort is positive in that it strengthens the mind, strengthens the determination and constancy, "says David Cabeza, financial analyst.
The undoubted virtuous circle of this sport – is healthy, cheap, democratic; It can be practiced when you want, how you want, wherever you want, alone or in groups – must question their own shadow: it has an addictive component and can lead to obsession with beating marks and seek risky challenges without proper preparation. Find a place in the hundred marathons that are held annually in the world is not an easy task as the apotheosis of the race put to the masses the mythical distance of 42 kilometers and 195 meters. Now, it is to prove the combination of sports – there is a marathon runner in triathlons – and in difficult conditions: competing in the mountains, the desert, the icy surface of the poles … in very high temperatures or with many degrees below zero, carrying food, equipment for camping.
The Superman myth is reborn with the Ironman extreme tests proliferating increasingly as stars of a phenomenon that covers everything: the races of 3000 meters to 555 km; asphalt to grass, stone, sand or snow; the urban park to gullies and high mountains. Millions of sports pairs of shoes that are sold per year with an industry that earns billions annually, and the number of popular athletic events is exceeded each year.
Although popular competitions offer often scenes of suffering and even a little pathetic, it should not get carried away beforehand by commiseration, even before the tortured corridor, spasmodic, which writhes in the race. Viewers need to know that these people invest in the pursuit of pleasure in pain that will later and in masochistic exercise suffer before take pleasure themselves seeking performance-enhancing drugs that inhibit fatigue alerts and soften his ordeal. The brain kicks in when your muscles burn with lactic acid and body shouts "stop, end the torment." It is shown that physical exercise stimulates the production of serotonin in the brain and that this hormone facilitates positive emotions and protects from depression.
Marathon World Champion in 1999, Martín Fiz has the merit of having won in some evidence Kenyans and Ethiopians, whose supremacy in long distance is overwhelming for decades. African domain would ratify the anthropological thesis "born to run", which explains the human evolutionary leap for its ability to pursue and escape of animals in the race. Without the maximum speed of their prey, humans have chosen to specialize in persisting in the race. That would explain the ligaments of the neck, base of the skull, which allow us to keep your head still during the race, the powerful muscles of the buttocks, driving the legs, and the tendons and ligaments of the feet and ankles, essential to run at speed.
The hegemony of African athletes is based, apparently, on genetics secularly isolated populations and used to run several kilometers often, as well as the advantages that take life in altitude. Martín Fiz adds to these reasons the need to escape poverty and assimilation of values such as effort, austerity, humility and the ability to suffer. "I believe that if one day the Spaniards could compete with Kenyans, it would be because we share some of these qualities. My parents left their village in Salamanca for a living in Álava; Abel Antón is a town of Soria, the same Fermín Cacho. Since childhood, I always knew that my suffering resistance level was high and that would test me in agonizing evidence. "
At 53, the Victorian athlete still alive with the "odor of nerves" that marathoners issue in the
moments leading up to the race. The real marathon begins at it from the first 30 kilometers, when it "the moment of truth" and must face the "wall" in the humanly reasonable limit suffering. "I'm strong in those moments. I repeat to myself that I was born for this, I focus and just listen, in a whisper, the cries of 'I did, I did!' 'Come on, Martin!'. I imagine myself raising his arms, up to the podium; I think of my father, who sacrificed himself so I had my first running shoes. "
In times when it comes to trick the body and combat their orders to stop the torture, there are runners who recite short prayers and mantras of self-help, "Trust you", "You are not alone"; to relive joyful scenes; who see themselves in children who believe they have been; who think of the child, that awaits on arrival; his mother, his girlfriend at the party, the purpose-alibis that push the "I'm running against spina bifida," "gender violence", "breast cancer", "the research on childhood leukemia," "for independence my country "," for the animals "…
Few recognize suffering from Peter Pan syndrome and for the same reason that broke with the woman or u husband, rush to get rid of the weight of years and return to feel young. Other so take your time to forced displacement and desafogam. There all also increasing frivolity and extravagance in the thematic pseudocorridas – the lane, the pitched battle, mud – in sharp contrast to projects that humility accompanies the quality and solidarity. "One of the best race is the Hardrock 100. No podium, all ending are called and applauded equally, and neither is there any difference in the application," says Kilian Jornet. In your opinion, sport is an extreme manifestation of a very hierarchical world.
Martín Fiz sees with concern the summer advance. After running 300,000 km, the useful life of a good car, has discomforts in a twin and need to recover fully for your next challenge on 25 September in Berlin.
When he retired from professional elite, I've set the goal to win the six major marathons in the world in the category of runners over 50 years. He has done in New York, Tokyo and Boston. Lack Berlin, London and Chicago. Can not stop. What if he could not keep running ?, I ask. "I feel like I was sentenced to a wheelchair. I think I could do more, but do not know, need something big to continue living, "says Martín Fiz. The Kilian Jornet response to the same question does not differ much: "You can not love something you love forever? You can not love your mother? Except for an accident, stop it is impossible for me. " One wonders if there is another love or hormone, the passion – perhaps? – Capable of putting an end to this vital dependence and the underlying message to stop is to die.
The incorporation of the outdoor sport women is a key element in the global outbreak of the phenomenon. In the short and medium distances they are already half of the field. His
progression in marathons, ultramarathons, trail running events (mountain running) and Ironman triathlons is meteoric, to the point of the Chicago Marathon have a female participation of 50%. The well-prepared women tend to reach and surpass men in longer races. In fact, the Leadville Trail 100 Run Colorado (160 km) the percentage of ending the test is far superior to them. How do you explain this high female physical competitiveness in ultramarathons? Physiologists argue that the body of glycogen, associated colloquially by its performance with leaded gasoline, just around kilometer 30 – the fateful stretch of the wall – and must be replaced by fat component diesel that women have more availability .
"Running teaches discipline themselves and to face the difficulties, in addition to increasing the capacity for suffering and resistance to stress," said David Perez Renovales, 50, father of two, director of Línea Directa. Like his brother Jaime, secretary of the board of directors of Banco Santander, David is part of the Business Circle Marathon runner, which brings together dozens of companies captains. Like many others, the Perez brothers Renovales always traveling with the shoes in the suitcase. "There is no more beautiful way to discover a city that when you wake up," they say. Day or night, on the pavement or on the ground, tap-tap-tap-tap, the steps of the corridors resound amid the world as a sign of the times.
Joy Johnson
Our eternal inspiration, the famous muse Corredora Joy Johnson, 86, NYC Marathon, here our small tribute.
Always smiling had "Joy" his name.